After a rough night not sleeping terribly well, it was a bleary eyed Blatter that had a coffee & marmite toast, before heading out to Newlands corner where Agatha Christie disappeared. I arrived to find Duncan & Robert in their yellow sevens & parked up next to them.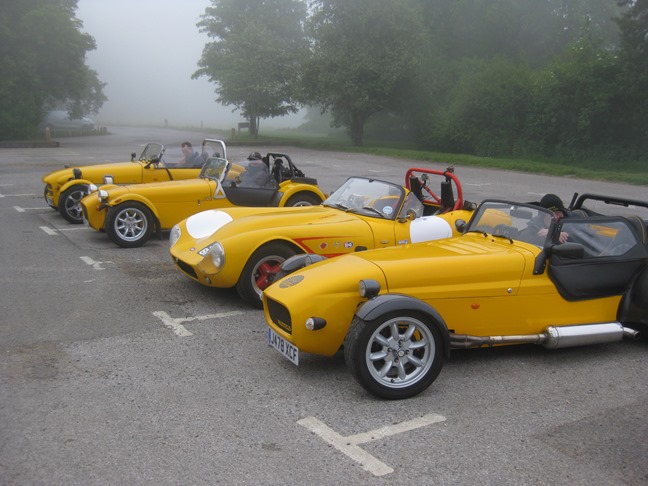 A lady jogger went past & asked if we were the yellow car club & were any more coming, at which point we realised the Dave's car is yellow too. He arrived & after a quick chat we circumnavigated Guildford & tackled the Pirbright Bends, there's a 30 limit on them now after a great many Novas & Corsas met their ends there – sadly some of their drivers too as evidenced by the bunches of flowers & football shirts nailed to trees. Speeding was not to be an issue today as we were stuck behind a van - & not for the last time either.
We passed one corner of Farnborough Aerodrome & drove up to Tweseldown Hill (pronounced tweezel down) a lovely windy smooth piece of road that we had plenty of time to appreciate as we were stuck behind a horse box. Shortly after that we passed the cameras & multiple fences of the Atomic Weapons Establishment.
We stopped for petrol on the outskirts of Reading, then the villages got double-barrelled & the land got lumpier as we headed into the Chilterns.
I was starting to get concerned about the time. Breakfast was booked at the meet point for 09:30, but as 09:30 came & went we were still on the road. I thought we must be getting close as we curled round RAF Brize Norton & just before 10:00 we entered Bourton-on-the-Water & had to wait for what seemed like an age at roadworks.
I got ahead of the others & screeched to a halt on double yellow lines outside the hotel to let them know we were about to arrive. There wasn't a member of staff to be found, but on my second time round the breakfast room, I found Linda waiting patiently, so now I could go back & park the car amongst all the oriental tourists taking pictures of everything.
Dave, Robert & Duncan had arrived by now & found three parking spaces & after a little driving about I found one too. So we ate our full English & caught up on things before setting off again. By pure chance I bumped into Eddy Pace - an ex colleague, who had seen the car parked up & wondered if it was mine, then Linda shooed off a small swarm of Italian youths who had taken up residence on her car & now as a group of five, we headed out of town.
Next we hit some dual carriageway to move us quickly towards Gloucester & then we passed over the Severn at "Over". After a couple of miles we found some hills & some roads winding round them, I included a loo stop here, but then drove straight past & had to turn round.
After that we crossed the River Wye & entered Wales at Chepstow, where we made a fuel stop. All through this period there had been occasional showers, but fortunately never enough to make us actually wet.
So into Wales then & a mixture of valley roads & trips over moorland until we got to Ferndale where we take some of the wriggliest roads I've seen on a UK map, but – again we were doomed to be following traffic, the other side of the valley was much better, the road was smother & wider & at the top was a large layby with an ice cream van & stunning views.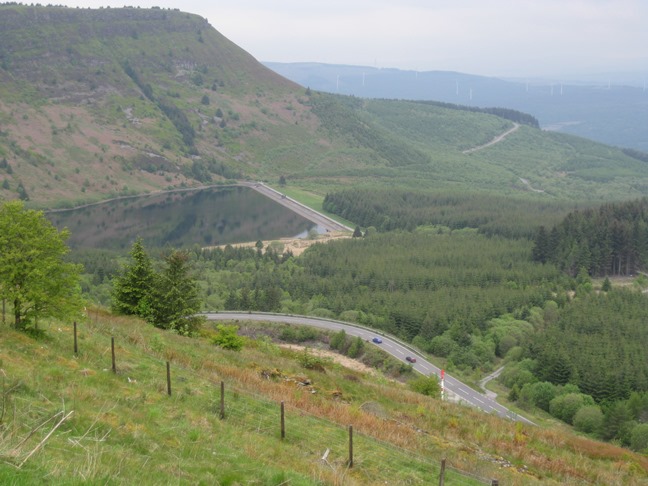 We found our hotel for the night, the only "chain" hotel on the trip & settled in, but I had picked a location in the centre of the local Japanese car fans race-track so I was kept awake for a while