An overhead conversation on the Cotswolds run got me thinking, the result is seldom simple once I start thinking. On club runs in the Fury I've used the headset that came with the two way radio & I bought a "better" one with a "head clamp" a boom mic & separate transmit switch - which worked OK, but the sound quality was pants & I struggled to understand what was being said.

Back to that conversation & one of the mechanical wizards was setting up the radio for an IT professional (yes, I thought that was odd too) & he happened to mention that the radio could be set on FM & would switch to transmit / receive if there was something happening. This meant if you had an iPod transmitter (Ebay £3 gadget to play the iPod over the car radio if your car's as old as my tintop is - it has a cassette player - remember them?) then the radio would send iPod to the headset & interrupt when there was chatter going on.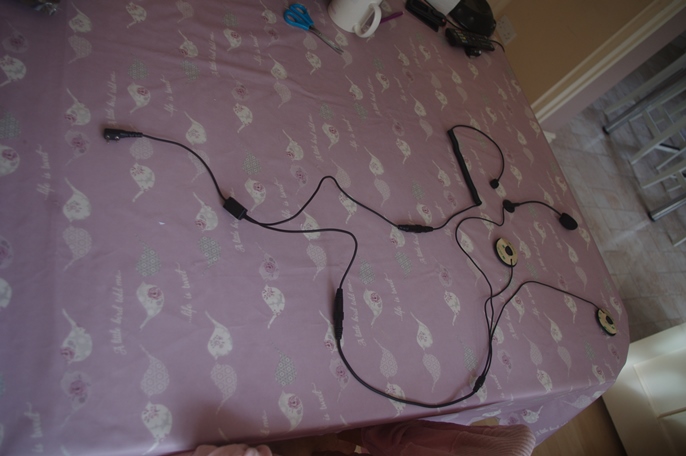 Wiring for M/C helmet headset
( I MUST apologise for the table cloth - my wife's choice, I HATE it):-
So I set this up with bits & pieces I already had for the run last weekend & it worked - even though the sound quality was pants.

I've now taken delivery of a pair of folding Peltor ear defenders (yellow naturally), a motorcycle head-set kit for a crash hat & shortly there will be more goodies through the letter box.