A couple of points about our Welsh hotel before I begin.
1/ What idiot stylist thought a loo seat this shape was a good idea?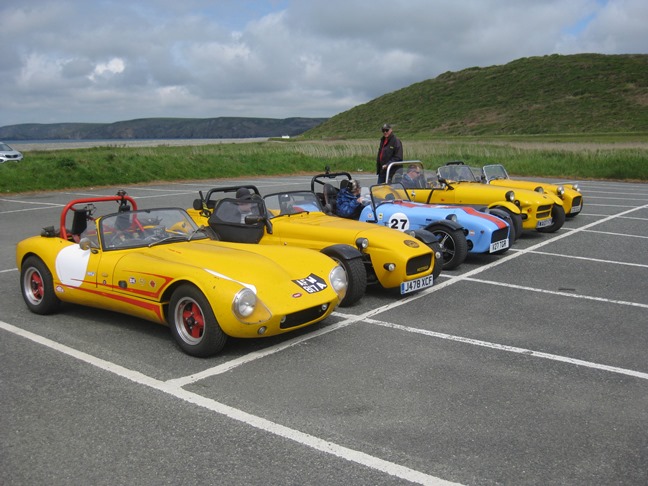 After that we successfully made it through the village of Cwmffrwd without breaking down, because I was dreading having to tell the RAC where we were.
More odd town names along the next section, we passed through "Red Roses", "Tavernspite" & "Cold Blow".
Next up was the UK's smallest city – St Davids, it looked a lot like a Cornish village, but with tourists numbered in hundreds rather that the tens of thousands you might expect in Cornwall.
After that we followed the coast – sort of, before turning inland into the heart of Wales – to paraphrase U2 "where the streets have no vowels". Some of the roads were chosen for the scenery, some for the technical twistiness, some just to get from one good road to the next. But the towns were few & far between & we discovered that the B4243 was kit car heaven. Smooth, just wide enough, constantly changing direction & with little other traffic. At one stage a local in a Peugeot joined us to play for a few miles.
And then the Elan valley, usually we're going south, this year we headed north to change the perspective. It's one of those places where for mile upon mile, apart from the road itself, there is no sign of human habitation at all. We were followed by a couple of touring bikers, we let them past, then just kept up with them, allowing them to look out for sheep & oncoming traffic…….
We stopped for a coffee in a hotel in the village of Trecarron, parked up in the town square & just relaxed. All very pleasant.
After that time was pressing, so we set the SatNavs directly for Llangollen & took the A5 which had its' benefits, it's wide enough to allow a small car to overtake without crossing the white line, so we were kept entertained.
Supper & a couple of pints in our hotel were most welcome & tomorrow, breakfast starts at 07:30, so were on the road sooner.