So, Many months ago I bought a lightweight alternator for the car. The difficulty was then that it needed fitting to the engine in a place where there was no-where to mount it. I did some measuring & I did some computer moddling, & I cut some metal & now, I have a bracket that's almost ready to fit.
The bracket's all aluminium alloy, very light & very very stiff - which it needs to be because the belt that'll drive it is about 150mm from the nearest attaching bolt.
I had it welded - unusual for me, I usually bolt things together, but in this case welding gave the stiffest solution. I still need to cut out some metal as there are areas where I could put lightening holes, but it's basically there.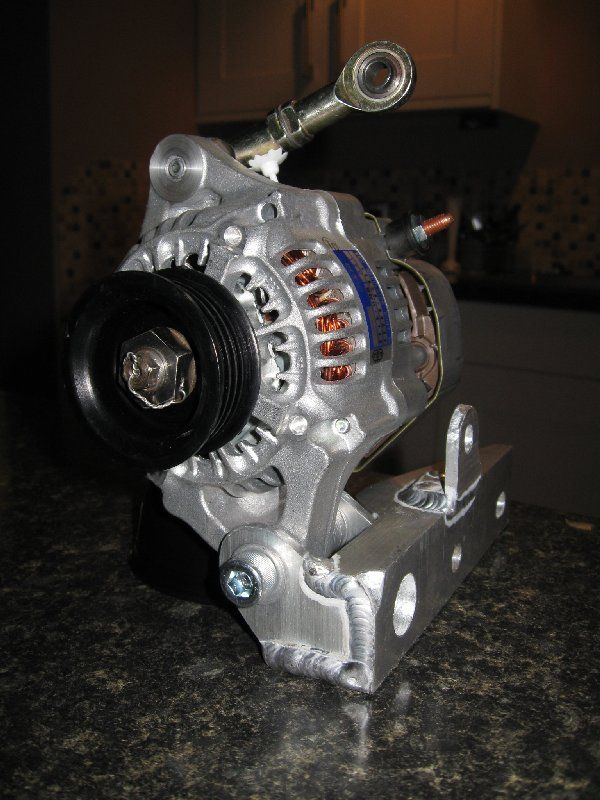 It's been too cold of late to do a proper trial fit, but I did dry assemble everything in the kitchen, propped up on various utencils & a birthday candle holder, & it all looks good.
Hopefully I'll get a chance to fit it this weekend & wire it up, but with the weather forecast for tomorrow inclined towards the "deep & crisp & even", I'm afraid it's not looking good.
Still, as it is undeniably a thing of beauty, perhaps I'll put it in pride of place & just look at it. I'm sure my wife will understand.