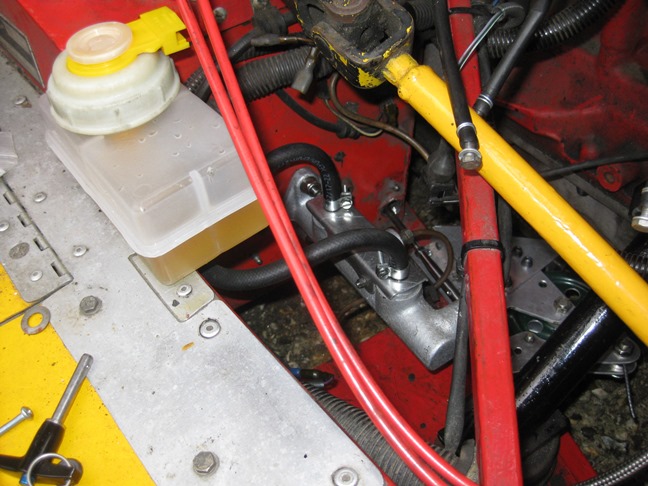 Well, after a couple of little ooops' I think I'm about done with the controls.
Ooops one:-
I tested the clutch with only one bracket, so when I fitted the second bracket, re-tested it & the pedal went down & stayed there it must be the second bracket distorting it yes? getting the bracket off isn't an easy thing, but I managed, un-bolted it from the car - & it made no difference. I'd over-tightened the clutch pedal (another awkward to get to part). So that's all now sorted.
Oooops 2:-
While that was going on I'd also fitted the new brake master cylinder & hoses, but the following day saw a small pool of brake fluid on the chassis. A quick feel around underneath revealed the source of the slippery wetness (insert your own joke here) - it was coming from the seal around one of the new fittings. So off with the reservoir again, sqidge the fitting right down, & this time I made some rubber washers to pre-load the fittings into the seals, this seems to have worked, but obviously I shall be watching it closely.
So, flushed with success, I started the engine, pushed the clutch down and engage first gear! letting the pedal up again made the car move!! I should explain that while I appreciate that's what supposed to happen & there are millions of cars where that is exactly what does happen - I'd been concerned that the pedal was so light, it wouldn't have enough travel to fully disengage the clutch plates. But that doesn't seem to be the case at all.
Now if the brake fluid stays put inside the pipes & hoses, it shouldn't be too long before they are fully sorted & the car's drivable again.